How to Turn Your Website Live - A-Record IP Address Settings
Before you can link your domain name to your website you must have an active hosting subscription with us.
Please choose from one of the following subscription packages by clicking the button below.
Important : please do not call support or attempt the following steps until you have completed the subscription.
Next, we will hook up your domain name.
Which domain provider do you have?

Watch the specific tutorial videos below for each provider.
If you haven't bought a domain name for your website, you can
purchase a domain name HERE for under $10

Already have a domain with Earthgrid.name? Watch this video to set up your settings for your website. Need help? Call us Toll Free 1-800-557-0212.
If you're talking with your domain name provider support. (Step by Step)
Change your A-Record IP Address to

216.55.155.66
If you bought your domain name through
Earthgrid Domains simply call our 24/7 domain support hotline at 1-480-624-2500 . Your will need your customer number. This is a number that is on your domain receipt that was emailed to you when you purchased your domain name and tell them the following:

I have a domain name with you. I need help changing the A-Record to a different IP address and set the DNS to the parked servers. Can you help me with this?

Once they get you to the right section and they understand what you need, they will ask you - What IP address would you like your domain to point to?
Tell them

216.55.155.66
-------------------------------------
After you've set these numbers in your domain name, there is one more step you need to do:

You need to make sure your
credit card is current on an active subscription in order for your website to be 'seen' on the Internet.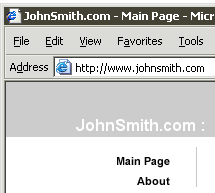 Once you have chosen a subscription plan, your website may be displayed under a domain you own. This will make all pages visible under your domain name and search indexed there as well.

File your domain name(s) under My Domain in Site Properties

Go to the Admin view of your site. From Control Panel option on top right choose Site Properties.
In My domain field list your domain name(s) both with and without www, separated with a comma.




Click
Your website will be up within 15 minutes normally.
Be sure to close and re-open your browser to test your domain name.
If you need step-by-step instructions - please watch the video above. Thank you.
If you are unable to access your account or would like us to do the changes for you, please tell us more about yourself and your business and someone from our team will reach out to you.
NOTE: your website is always additionally located at www.earthgrid.com/yourusername whether you are a customer, free trial, or free personal site. When calling our support department at 1-800-557-0212 your agent will ask you for your username. Be sure that you have identified the correct username so they can help you with the correct account.